VOYAGER FLIES PAST JUPITER
Digital (Blender™ and Photoshop™) --- 2016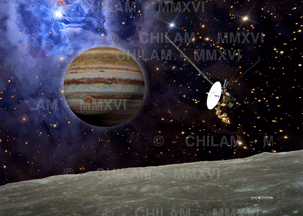 Forty years ago, the Voyager probes began their epic journeys to the outer planets and beyond. Voyager 1 yeilded spectacular images and data on Jupiter. This piece pays tribute to that history-making space flight. Voyager 1 is now the most distant man-made object in the universe.
VINTAGE FLYING SAUCER
Digital (Blender™) --- 2013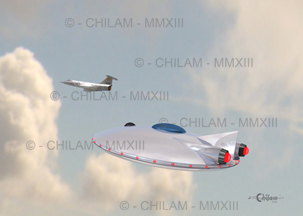 Ever since The Roswell Incident, alien spacecraft have been the mainstay of science-fiction art. In the 1950s, nothing was more iconic than the flying saucer. Throughout the cold war, images of flying disks captured the public imagination, stoked our fears and stimulated our sense of wonder. The UFO became a cultural phenomenon. For anyone born before the Space-Age, this should bring back both fond and scary memories.
ALIEN ARTIFACT: SPACECRAFT
InDesign™ --- 2004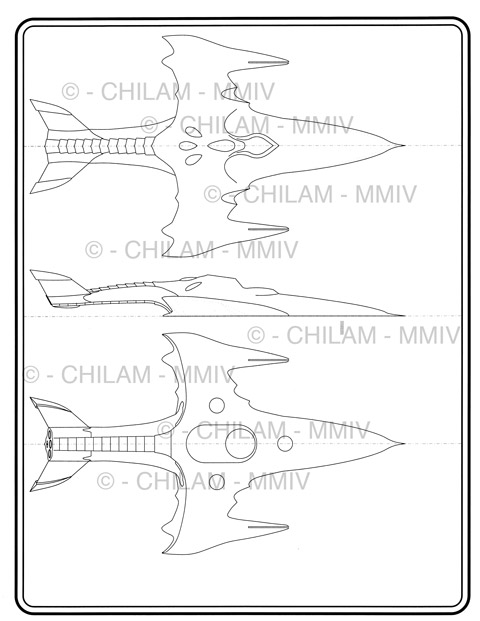 Recently discovered on a rogue planetesimal, the artifact code-named Scorpion is a deep-space cruiser of extraordinarily sophisticated technology and believed to be alien in origin. The vessel is a masterpiece of bio-engineering and appears to be composed of living matter and metallo-proteins. Its origins and purpose are unknown. It is believed to be some sort of spy-craft.
DEEP SPACE
Stock Photo
The infinite sky: once thought to be a shell around the Earth separating it from heaven, the depths of space have not lost their sense of wonder in the light of scientific discovery.
PLANET-RISE ON ENCELADUS
Pen & Ink on Paper --- 2006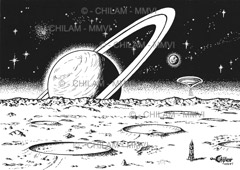 The planet Saturn as seen from its third-largest moon, Enceladus. Note the visitors in vintage fifties-style spacecraft and Titan in the distance.
ESCAPE FROM ACHERON
Acrylic on Canvasboard --- 1993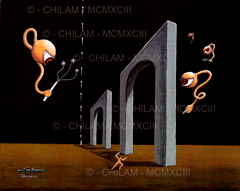 The Last Battlefield. The soldier, stripped of his armor & weapons, makes a futile attempt to evade the Recognizers; Is he destined to spend the rest of eternity running?
MOTHER-SUN
Acrylic on Canvasboard --- 1988
The source of life. The living world is attached to its parent sun by an umbilical cord as a fœtus in the womb. All life is on the inside surface of the world as in a closed system. Information enters into the world by the umbilical/optic nerve and passes between the eye and the synaptic nerve center. The soul-ship, with its spider-web sails sets sail from the dead world to this new world of life.
FLIGHT OF THE SCORPION
Acrylic on Canvasboard --- 1989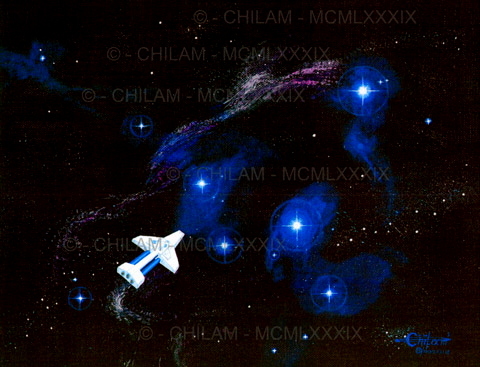 The pilot Reylan Merak takes the recently-discovered alien star-cruiser Scorpion on a flight into deep space. Original in the collection of
Greg Slade.