Portrait of TANNETH: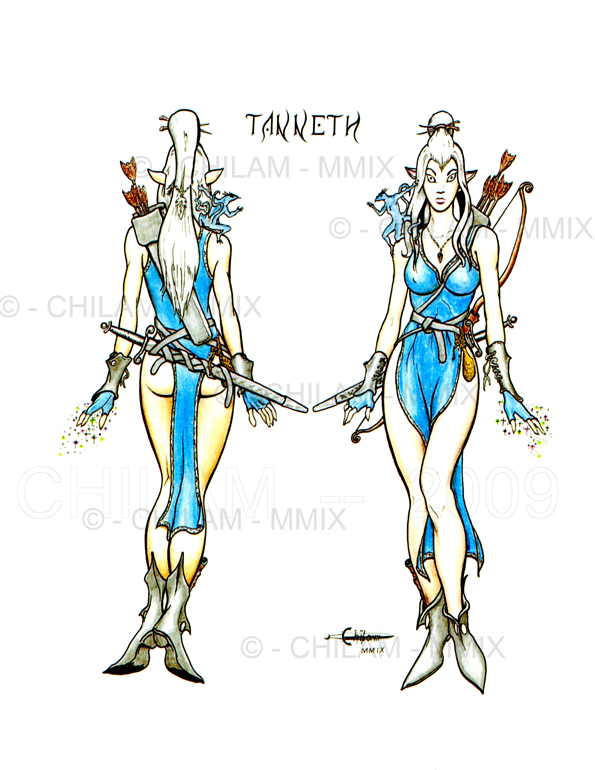 •
XXXXXXX
THE ILLUSTRATED WORLD OF

COSTUME STUDY
FOR TANNETH

Pen, Ink and Pencil-crayon on Paper - - - 2009


PRINTS: 8"x10"; Matted to 11" x 14" in blue or white; Run = 15
$25
RACE:
VAQLORII
GENDER:
FEMALE
HEIGHT:
15.25 Hands (5' 1")
WEIGHT:
6 Stone, 6 Lbs (90 Lbs)
OCCUPATION:
SORCERESS / THIEF
WEAPONS of
CHOICE:
SABRE, SHORTBOW
STAFF, WANDS
MAGICAL
DISCIPLINES:
ARCANA,
SORCERY
STATUS:
ALIVE
Tanneth is a bit of a dilettante: part-time sorceress and part-time thief, she has a penchant for getting herself and her friends into and out of trouble. On her shoulder sits her familiar, a creature from the realm of chaos.

Costume studies are used in theatre and film to illustrate front and rear views of the clothing, costume or armor a character will be wearing. Note: the bow is not featured on the rear view so as to show the other accessories without making it look too cluttered.
GO TO THE 'MAGICAL GIRLS' PAGE
RETURN TO THE 'TANNETH' PAGE
Detail of TANNETH: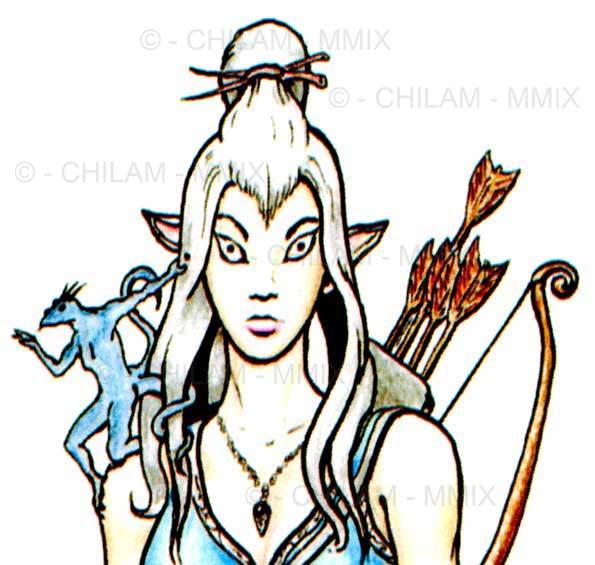 DETAILS TO NOTE:
Her hair and eyes. The Bow and Arrows. Qaaz, the Molokoth.