The Challenge of Flavius
Acrylic on Canvasboard, 1989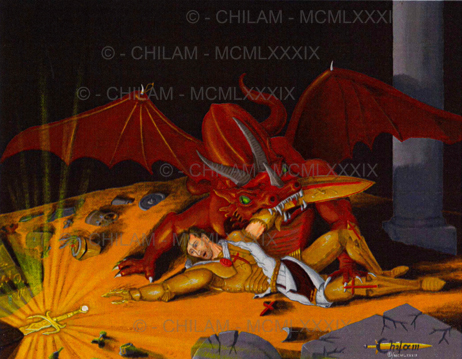 ⬆ Flavius, in his first encounter with the great wyrm Golgoleth, finds himself once again in trouble. The ancient sword of power, Deus Irae, lies just beyond his grasp. This painting was done in 1989, before Paladin was written, and thus shows Flavius wearing the gold armour. In the novel, he has not yet acquired the the magical gold armour when this fight takes place. Needless to say, the dragon crushes his shield and devours his arm but still, somehow, Flavius manages to escape to later take on the ogre and plan a rematch with this great serpent.
Flavius in Sprackland
Pen & Ink, 1990
⬆ Young Flavius about to cross into the realm of Sprackland. At the age of twenty, Flavius gained fame as one of the heroes of the great Battle of Auldsteinbrücke (the ancient stone bridge) against the Smeddeg hordes.
In Tough
Acrylic on Canvasboard, 1991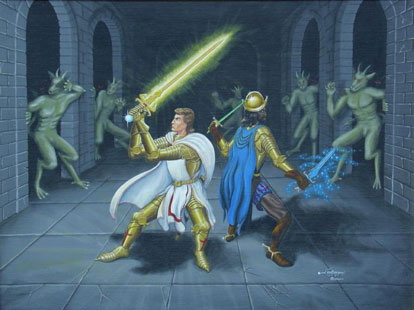 ⬆ Flavius, with his holy sword Deus Irae, and his loyal friend and comrade-in-arms Branco Vasquez find themselves in tough against a horde of Glaigoll (minor demons inhabiting the hellish nether-realm of Pandeimos. The shekinah (the radiant glory of God) repulses the monsters, inflicting pain on them, while Branco stands ready with his frost-sword, Aquilón. Will our heroes have what it takes to survive this onslaught?