WHAT MAKES A HERO?
FLAVIUS FRANCISCUS: A Special breed of Knight called Paladin, Fearless Warrior, Determined, Gallant, Hero of the Battle of the Great Stone Bridge, Slayer of the Great Dragon Golgoleth, Leader of the Free Companies, Champion of Justice, Defender of the Faith, Upholder of Righteousness
Great deeds of courage and valour are the staple of any person of greatness; But, a true hero has something more...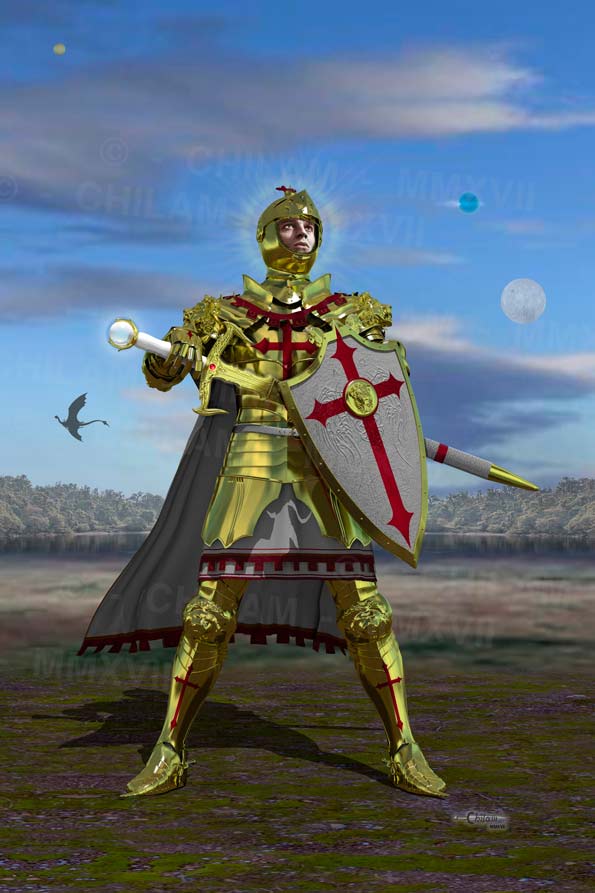 ⬆ Digital (Blender™), 2017
A MAN OF PRINCIPLES & DEEP FAITH
Being a paladin is more than just being a great fighter; It is about being a humble servant of the most high God, Ā-nak. The devout Flavius always starts and ends his day in prayer, kneeling before the altar of Ā-nak.


THE HOLY SWORD
A powerful ancient artifact some say was created by Ā-nak Himself, this magnificent weapon radiates the shekinah (the radiant glory of Ā-nak) which repulses undead & demonic monsters, inflicting pain on them.
IT IS ALL ABOUT CHARACTER.
FLAVIUS FRANCISCUS: God-fearing, Humble, Wise, Penitent, Compassionate, Quick to act, Slow to Anger, Gracious, Charitable, Diplomatic, Tactful, Courteous, Chivalrous, Strong Leader, Generous Benefactor, Protector of Widows and Orphans, Devout Servant of the Most High God Ā-NAK.
The Pax Valorum: Flavius will live and die by this code of honour, considered by most to be the Chivalric Ideal.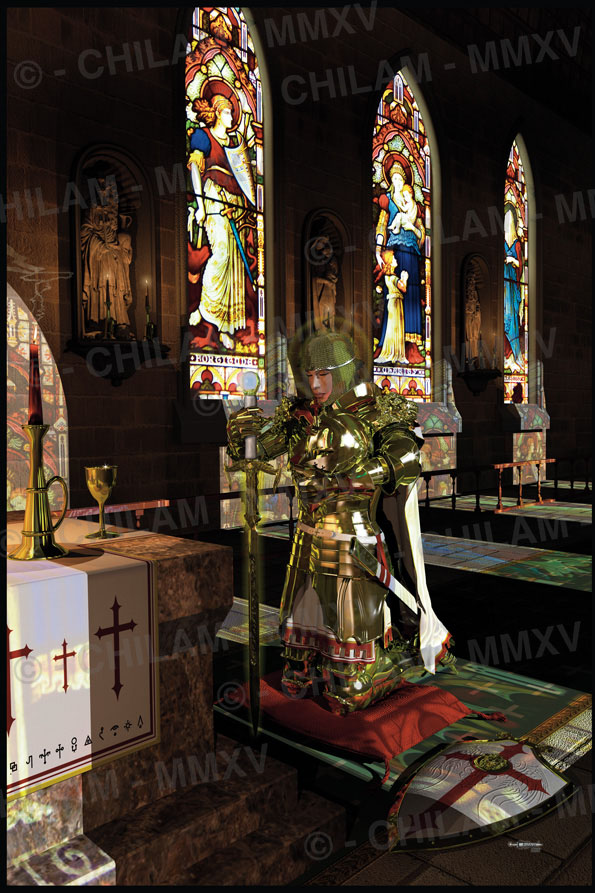 ⬆ Flavius, Penitent --- Digital (Blender™), 2015
ARMOUR OF GOLD = ARMOUR OF GOD
Inspired by the Holy Sword Deus Irae, Flavius sought out a new armour that could withstand the dragon's acid breath. Gold, it was argued, was good against acid but far too soft & heavy to be viable armour. Flavius needed a miracle to beat the dragon, so he sought one out. It would come in the form of an analog: The gold armour, divinely hardened & lightened, was a physical counterpart to 'spiritual armour', sacred protection, divine providence.